Okay, when I'm not writing, my day kinda looks like this: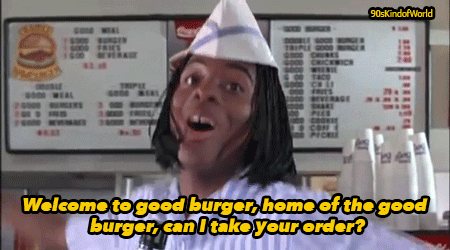 I don't hate my fast food, customer service, shift management position. I don't exactly love it either. Eight to ten hours on my feet while people who probably hate their own lives tell me that I should get a better job is not exactly what I'd call living the dream. But it is a job, and it pays my bills.
In between packing massive amounts of fries into bags of dubious quality I like to jot down ideas for my stories. Since I worked a long shift today I did my best to get an outline together so that tomorrow, when I only have to go in for four hours, I can get some real words down on the page.
You know, opposed to the imaginary ones floating around in my head.
But I did it!! I got [2/3 of] an outline done! I have the basic cast in mind. I've decided that my first romantic novel is going to be relatively short, barely touching on the traditional novel length, and that the cast is going to be very, very small so I have the opportunity to really develop the main characters and their turbulent, slow-burn relationship.
Can it be slow burn if you are only doing 50,000-ish words? I dunno. I hope so. That's what we are going for.
Also, I may have spent a large portion of my time between batches of fries and sweeping up after poorly wrangled children utilizing my workplace WiFi and scrolling through a massive amount of indie artists who make digital covers for novels. There are so, so many. It's kinda overwhelming.
Either way, outline is (nearly) done, and I am planning on crawling into a good book tonight, probably with a cat demanding my attention. Hope everyone who reads this is having a fantastic day, and that your dreams are being reached.